Fight The Freshman 15
September 13, 2012 | by
Casey
Maintaining a healthy body weight and eating right are important when you are trying look and feel your best.   Packed schedules, erratic sleeping habits and multiple nights of wings with the girls have a way of adding up quicker than the amount of homework you need to get done over the weekend.
One of the biggest challenges college brings is fighting the "freshman 15." Learning how to eat properly in the dining hall is the first step towards living a healthy life.  With unlimited pizza, burgers, French fries and ice cream, how do you avoid their appeal and maintain your figure? Use these six tips as your guide to mastering your college's dining hall.
Set a splurge day
Pick one day each week to indulge at the ice cream bar, pizza counter, or cupcake station.  When you mentally pencil your splurge day into your active and healthy lifestyle, you are much less likely to binge other days of the week. Your splurge day gives you something to look forward to.
Eat breakfast the right way
While pancakes, French toast and jumbo muffins look tempting, they aren't going to keep you feeling full or fuel you for your busy day.  Your dining hall super foods consist of oatmeal, yogurt, eggs, fruit and whole grains.  Use these basic entrees as a blank canvas to create a healthy and nutritious morning meal. Mix your eggs with some raw veggies for a healthy omelet, top your yogurt with fresh fruit or try adding berries to your oatmeal.  The possibilities are endless.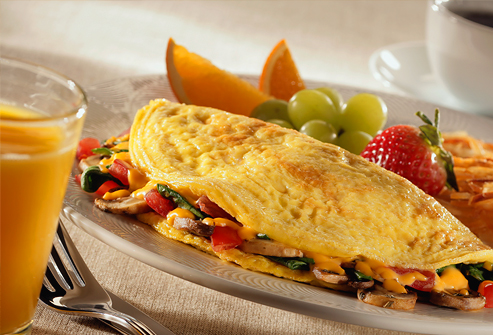 Don't overlook the salad bar
You will find some of the healthiest dining hall fare at the salad bar. Instead of choosing a fatty side dish with your entrée, (we're looking at you mashed potatoes!) fill your plate with broccoli, carrots, green salad and dried fruit.  The salad bar is where you will find the fresher, less processed foods packed with vitamins and minerals.  Vegetables are a natural source of fiber, which is not only good for your digestive system, but leaves you feeling full and helps you to live longer.
Protein, protein, protein
Protein is essential to muscle development and helps you to feel satisfied after eating. Try and squeeze in some sort of protein at every single meal. Here are some healthy ways for you to get your protein fix:
Breakfast – eggs or a whole-wheat bagel with 2 tablespoons of peanut butter and a banana
Lunch – salad with grilled chicken, turkey sandwich on whole grain bread
Dinner – bean salad, turkey burger, grilled chicken quesadilla
Get creative
If you want to survive eating in the dining hall, you must learn how to get creative. Can't find any grilled chicken today? Get some turkey at the sandwich bar and throw it into your salad.  Take brown rice and add it to your beans instead of using the sour cream that's provided on the side. With school dining halls now offering an abundance of options, you have the ability to customize your meals and really get the most out of them in terms of nutrition.
Look around
While it may be tempting to travel in packs in the dining hall, branch out and explore every nook and cranny of the cafeteria.  Some of the healthiest and most unique items may be found in a corner that you never thought to look in before. When you take the opportunity to really search the dining hall, you are bound to find meal inspiration that could easily have been overlooked if you went straight to the table of entrees.
What are some of your tips for eating right at college?
Casey Galasso is junior at Marist College. Follow her on Twitter at @omggcasey. To stay tuned to more articles for classy co-eds, be sure to follow College Lifestyles on Facebook, Twitter, and Pinterest.